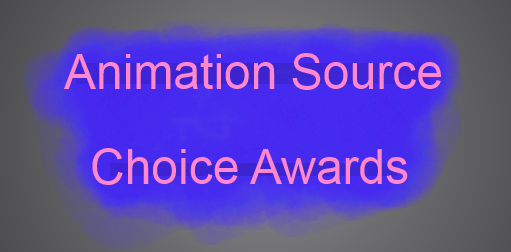 It's back!
The Animation Source Choice Awards (ASCA), not to be confused with the Animation Source Awards, which honour members of Animation Source and has been discontinued permanently, honour the best in animation from the previous year. The first year Animation Source hosted the awards, 157 people voted, and the winner of Best Picture was Rio. Last year, however, less than 20 people voted altogether, and it was decided that the awards should be cancelled. However, enough people have expressed interest in voting this time around, so it has been decided to give it another go.
The official section of the website for the ASCAs goes in-depth about all the information about the show, and past winners, but here's a short summary: You, the members of Animation Source, can vote for your favorites from the previous year (in this case, you will vote for the animation from 2013), and the votes are counted up and a winner announced.


This year, the ASCAs will be simple: Several categories will be announced on 1 January, as well as all the selections within those categories, and you can then vote from 1 January to 31 January. On 1 February, the winners will be announced in a fan news. It's that simple!
A full list of rules will be posted at a later date, as well as a list of all eligible films. If you have any questions, leave a comment to this news or send me a PM.